Click cover to see larger image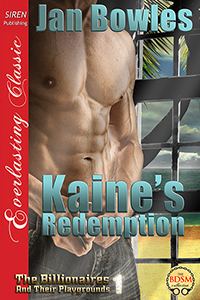 Kaine's Redemption
(The Billionaires and Their Playgrounds # 1)
Dynamic and charismatic, forty-year-old businessman Kaine Deville, always gets his way. Self-reliant and self-absorbed, he's certainly ruthless, especially when it comes to satisfying his voracious sexual appetite. Far away from prying eyes, his private island in the Caribbean is just the place to indulge his hedonistic fantasies.
When he meets Jessica Morris, a twenty nine-year-old Cornish schoolteacher, and aspiring artist, his interest is aroused. Her undeniable artistic talent may seduce and beguile him, but it's the froth of bright red curls, framing her beautiful elfin face that makes him want to claim this lady all for himself.
Invited to immortalize his island paradise with oils and watercolors, Jessica is instantly attracted to the devilishly handsome billionaire. His captivating charm, mixed with a sexy hint of menace, leaves her unable to resist the potent chemistry developing between them.
Will Jessica be able to stand her ground against Kaine's all-conquering personality?
Available as an e-book PDF, LIT, HTML, Kindle, & EPUB

KINDLE || KINDLEUK || KOBO || ITUNES || NOOK || NOOKUK || SONY || eBOOKS || GooglePlay

You can purchase the paperback book from these stores
AMAZON.COM || AMAZON.CO.UK || BARNES & NOBLE
Check out the other books in the series here
Want to read the 1st chapter free? Click here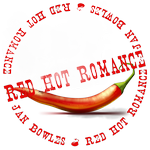 Adult Excerpt
Kaine's Redemption
Kaine hadn't seen Jessica for three days. Perhaps now was a good time to go check on his artistic prodigy and see if she'd created any magic with paint and canvas. He wondered what embarrassing shade of red her cheeks would be when he arrived unannounced.
After climbing then descending the rocky outcrop, he strolled along the beach with a towel and a pair of laced-together sneakers slung over his shoulder. Although she was well out of sight by now, his footprints in the sand followed hers. He smiled. Judging by her stride length, and the sand kicked up behind her, she'd taken off like a bat out of hell.
When he placed his footprint next to hers, he was amazed at how tiny this beautiful sexy lady was, and judging by how far her petite feet had compressed the sand, she didn't weigh much either.
He'd been more than a little pissed when he'd last seen her. He wasn't used to women using the word "no." In fact, he couldn't remember the last time it had ever happened. In his opinion, Jessica had led him on, allowing him to dip his fingers deep inside her pussy before calling a halt to the proceedings.
Little prick teaser.
When he returned to his house, he had a hard-on that just wouldn't quit, and her rejection of him only made him more determined to tame her sassy ways. He figured that as soon as her head touched the pillow, she went straight off to sleep that night, totally unaware of the effect she'd had on him.
Huh, that's women for you.
As her villa came into view, his hard-on asserted itself again. Goddamn the thing. It seemed to have a life of its fucking own. He wanted her. In fact, he couldn't recall wanting a woman more than he wanted Jessica right now.
Kaine rapped on the door, and was surprised when she immediately opened it. For some reason he thought she'd be hiding, pretending she was out.
"Hello, Kaine." He heard the slight tremble in her Cornish lilt, and he knew he was getting to her. Her face was bright red. The sort of red that didn't come from too much sun. Just what was it about a blushing English maiden that was so fucking sexy? He'd always considered British women to be sexually repressed, but with Jessica he knew unbridled sexual arousal lay just beneath her typically demure exterior. He saw it in the blue of her eyes as she stared up into his face like a frightened rabbit. This time he wouldn't take no for an answer. Deville's Island and everything on it belonged to him, and that included Jessica.
He scanned her appreciatively from head to toe. She still wore the same skimpy red bikini, and her perfect creamy tits, squeezed by the tight fabric, rose and fell alarmingly quickly. She looked uncertainly at him, and he figured she wasn't sure what he was gonna do next.
"How's the painting going?" he asked.
No doubt wondering if he were about to bring up the episode at Horseshoe Cove, she seemed a little disorientated. "Painting? Um-oh. I've started on two canvases, but I'm not happy with them. In fact, I'm tempted to throw them out and start again."
"I'll be the judge of that." Holding her gaze, he gripped her naked waist and bodily lifted her to one side, noticing she weighed virtually nothing.
"It's not convenient, Kaine," she weakly protested.
"It is for me, baby." He strode through the living area and into the makeshift studio, where he dumped his towel and sneakers on the nearest chair.
Kaine stood back and studied the unfinished masterpiece resting on the easel. It depicted the west coast of the island in all its untamed glory. He was impressed, and knew he'd made the right decision by commissioning Jessica to paint his Caribbean hideaway. The spirit and personality of the woman herself shined through with each stroke of the brush and deliberate smear of paint on canvas. It was magnificent and just as he'd seen at her exhibition in London, Jessica's use of light and color was stunning. He shook his head with disbelief. "Oh, baby. Not happy with it? You gotta be kidding me. I know talent when I see it, and I'm looking at it right now, and believe me when I say I like what I see."
Kaine emphasized those five little words in such a way, that their double meaning wouldn't be lost on her. He looked her up and down again, checking out her flawless creamy skin, naked save for two scraps of sexy red fabric. She blushed profusely, and he found it so attractive, he knew there was no turning back.

KINDLE || KINDLEUK || KOBO || ITUNES || NOOK || NOOKUK || SONY || eBOOKS || GooglePlay
You can purchase the paperback book from these stores
AMAZON.COM || AMAZON.CO.UK || BARNES & NOBLE
Check out the other books in the series here
Want to read the 1st chapter free? Click here